CAFDEx® provides enterprise-wide capability that is easily configurable to enforce and support your enterprise business rules and processes.
CAFDEx® can be delivered with a variety of enterprise quality data base engines and includes error trapping and recovery to prevent input  data loss.
CAFDEx® core umbrella system is used to integrate and provide quick and reliable access to a series of web services and applications.
      ∝  User Access / Authentication
      ∝  User Roles / Responsibilities
      ∝  Business Process Workflow Management
      ∝  Host and Maintain Corporate Data
     ∝ User Customized Portals
∝ Manage System Security and Web Service Access
∝ Administer Data Access Privileges
∝ Audit Trail Tracking
∝ Enable Staffing / Collaboration/Coordination / Approval
∝ Collaboration Tools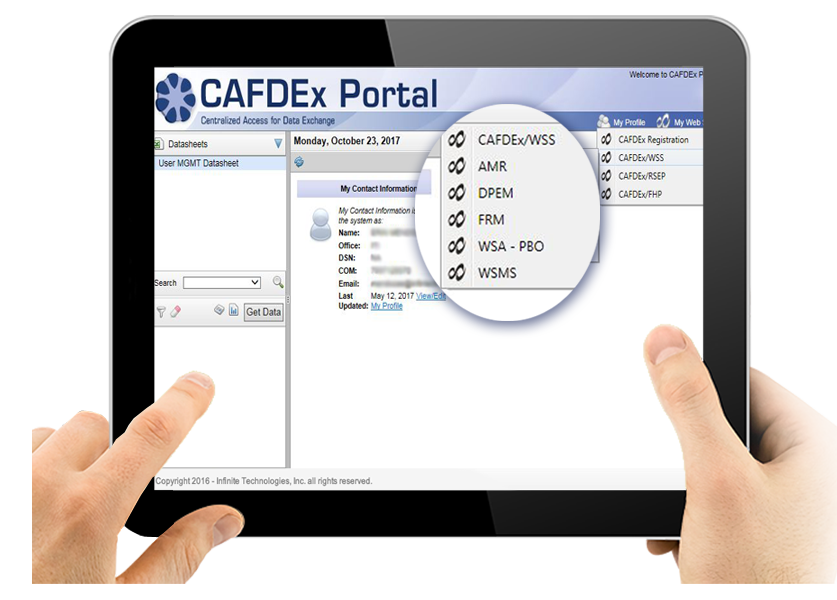 CAFDEx® Software Configuration Services
CAFDEx ® products are highly configurable to support your unique and evolving business processes. System configuration includes data, user roles and permissions, tailored workflows, and custom reporting. This software solution comes with both our configuration and training services for optimal results.
      ∝  Representing data in your language
      ∝  Implementing Data Interfaces
      ∝  Using metric-driven processes
      ∝  Tailoring workflows for compliance and efficiency
      ∝  Unique User Interfaces and Data Visualization
 CAFDEX ® Integrates data repositories  into a "single Portal" that delivers seamless user experience
CAFDEx® Analytics use centralized data and provides real-time decision support tools .Online Grids, Analytics and Reports customized to your data and configurable
CAFDEx® offers customizable workflow with eCollaboration, eCoordination of process data reduces errors, travel time and costs
 Customizable user access by Affiliation, Web System, Role and Filters to maximize each users time and productivity via CAFDEx ® User Administration and Requirement Management
 Access to CAFDEx ® University's training Subjects and Courses via online Help Guides and scheduled Brown Bag sessions
 CAFDEx® Portal ensures all managed web systems "CAFDEx® Umbrella" are cyber compliant
Direct feedback to analysts via CAFDEx ® Sustainment Requests (SR) for software related issues
Standardized and customized reports and graphs can be displayed or exported with integrated data from multiple sourced CAFDEx® Websystems
CAFDEx® Software Services
CAFDEx® Maintenance Requirements Planning / Forecasting (MRP / F)
provides a turn-key business process to collect, record, and evaluate costs and provide corporate budget inputs, planning reports, and maintenance expense forecasting services for the development of budgets.
CAFDEx® Management Budget Allocation Planning Programing(MBA / PPBE)
provides roll up and drill down capabilities that enable process users to align current and future funding with current and future year requirements.
CAFDEx® Inventory and Unique Identification (I / UID)
provides inventory control, maintenance scheduling, and budgeting for company assets, consolidating equipment inventory into a single database, accessible by users worldwide, that  facilitates central reporting and knowledge management.
CAFDEx®Maintenance Visit Planning (MVP)
implements the visit planning, scheduling and budgeting needed to forecast baseline and cyclical requirements thereby ensuring your capital assets are maintained and conserved.
CAFDEx® Strategic Planning/Performance Based Objectives (SP / PBO)
provides collaboration capabilities for Senior Leaders that result in strategies and readiness requirements being captured and turned into  actionable items through the development, collaboration and approval of Performance Based Objectives (PBOs).