Fuel transfer in flight is the process of transferring fuel from one aircraft to another while they are in the air to extend the range or endurance of an aircraft. A single in-flight mission will transfer tens of thousands of gallons of fuel in a given mission. In fact, a tanker can transfer more in one mission than your neighborhood gas station will dispense in a week. With such volumes, the ability to promptly and accurately bill for fuel transactions has an enormous impact on fuel program management.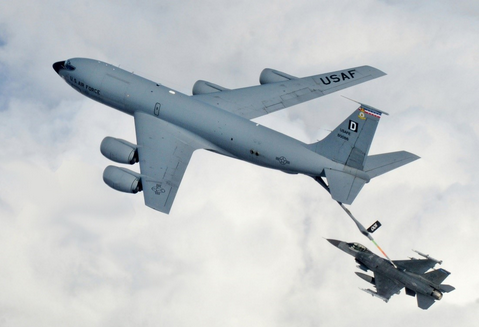 A unique aspect of Fuel Hour Program (FHP) suite is the tracking and accounting for in-flight fuel transactions. Fuel In-flight Program Management or FIPM is a dynamic, web-based solution that helps users efficiently manage the in-flight refueling transaction process (known as the DD791 process within the DoD) for both Tanker and Receiver units.
By offering a mobile app for real-time recording of the in-flight transactions, FIPM helps Units and Commands save time and money while making audit preparation simple by logging and billing all in-flight fuel transactions by the correct unit, service, country, and/or fuel source.
The system has reduced time to fully process in-flight transactions from 60 days down to
as low as 3 days.
The system utilizes interfaces with other systems to support the accurate billing and timely reconciliation of fuel receipts. As one example, the system will interface with the EBS system from the Depart Logistics Agency EBS system to verify that off-load transactions have been processed in a timely fashion.
This automation alone has saved the POL (Petroleum, Oil and Lubricants) office up to 60% of man-hours. In aggregate, the automation provided by FIPM has cut processing time for in-flight transactions from 60 days down to as low as 3 days. Additional FIPM interfaces with different aircraft inventory sources for FMS, Navy and the Air Force make it easy to look up tail number information and ensure DD 791 form data is more accurate and complete, expediting the creation and management of digital 791s.
FIPM complies with Air Force Instruction 11-253 for managing purchases of aviation fuel and provides imbedded tools such as multi-role support, data imports, DD791 creation, and much more. FIPM roles included in supporting the Fuel In-flight Program process represent the Foreign Military Sales (FMS) Officer, Boom Operator, POL Fuel Officer, and the Wing Refueling Document Control Officer (WRDCO).
This intuitive, user-friendly tool has a Tail-SMART assist feature to auto-fill the DD 791 form and minimize errors. This feature enables online communication to ensure issues are identified early, prior to review. DoD Aviation Fuel receipts and other data are shared in real-time with document upload capability and email notifications, including communication with non-FTPM Units and other services. Transaction alerts, a mobile app for data capture, and web synchronization round out this all-encompassing enterprise tool. FIPM is your Digital form DD791 personal assistant, ready to support your mission.
Get your subscriptions now! Available via GSA Advantage! For more information, call us at 1-800-406-7330